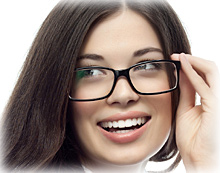 Astigmatism– Like nearsightedness and farsightedness, astigmatism is a refractive error, meaning it is not an eye disease or eye health problem; it's simply a problem with how the eye focuses light. In an eye with astigmatism, light fails to come to a single focus on the retina to produce clear vision. Instead, multiple focus points occur, either in front of the retina or behind it (or both).
Infant See.org
The InfantSEE® assessment offers early detection of potential eye and vision problems as a complement to the eye screening conducted in a pediatric well-care visit. A comprehensive assessment between the ages of 6 months and 12 months is recommended to determine healthy development of vision. Risk factors for many eye conditions, including amblyopia (often referred to as lazy eye), muscle imbalances, and some ocular diseases, have no signs or symptoms and may not be detected in a well-baby check-up.
Important reasons to see your Optometrist every year:
Cataract is a clouding of the eye's natural lens, which lies behind the iris and the pupil.
Age-related macular degeneration — also called macular degeneration, AMD or ARMD — is deterioration of the macula, which is the small central area of the retina of the eye that controls visual acuity.
Glaucoma, refers to a group of related eye disorders that all cause damage to the optic nerve that carries information from the eye to the brain. Glaucoma usually has few or no initial symptoms. In most cases, glaucoma is associated with higher-than-normal pressure inside the eye — a condition called ocular hypertension. But it also can occur when intraocular pressure (IOP) is normal. If untreated or uncontrolled, glaucoma first causes peripheral vision loss and eventually can lead to blindness.
Diabetes: we are checking for Diabetic retinopathy — vision-threatening damage to the retina of the eye caused by diabetes — is the leading cause of blindness among working-age Americans, according to the U.S. National Institutes of Health (NIH). Yet, many cases could be prevented with regular eye exams and appropriate treatment.
High blood pressure
Call 303-271-1400 or Click Here today to set up your appointment.
Most Major Vision Plans Accepted