Dr. Kelley Jackson Condon is a Colorado native who completed her undergraduate degree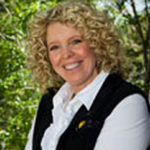 at the University of Colorado in Boulder and her Doctor of Optometry degree at Northeastern State University in Tahlequah, Oklahoma. In Oklahoma she worked in a surgical clinic for several years before returning to Colorado in 1998 to open Table Mountain Vision in Golden.
Dr. Jackson Condon is married to Mark Condon. They and their children reside in Golden where they enjoy hiking, snowshoeing, golf, and entertaining friends.
Dr. Jackson Condon is very involved in her community, having served on various boards and committees: Leadership Golden, Downtown Merchants, The Original Shopping Districts, and numerous other committees. This involvement has been highlighted by her election as chair of the Golden Chamber of Commerce in 2004 and again in 2009.